The roles of the designer, the client (or producer, or manufacturer) and the user are being shaken up in industrial practices that have, until now, been oriented mainly towards mass production. Stappers and his colleagues illustrate the contemporary occurrence of co-creation and co-design and describe the hybridization of the designer's role.
Pieter Jan Stappers Froukje Sleeswijk Visser Sandra Kistemaker
Open design has numerous aims; some of the most important ambitions include breaking down the barriers between designers and end-users, making it possible for non-designers become designers, AMATEURISSIMO and cutting out the middle-man by having end users fabricate the products they need. Inspiring examples have been presented in the domain of craftsmanship. New, craft-based industries are visibly taking off, either locally oriented or operating globally over the internet. However, the feasibility of open design for more complex products, such as washing machines, cars and jet planes.
The Creative Guy
As yet, it is unclear where the limitations of a user-centred approach to user involvement lie. Despite these complicating factors, the roles of designer, client, user and end user are being shaken up in these more complex areas of design and product development. 1 Traditional caricatures of the designer as 'the creative guy' and the user as a recipient, a 'passive, un-critical consumer' have been questioned and surpassed in a growing variety of ways.
One example mentioned frequently is the 'lead user approach', 2 in which select subgroups of dedicated, tech-savvy users contribute to the process of generating solutions, and develop new features for products. This presents a clear challenge to the traditional division of roles in the design process, but it only serves the needs of specific subgroups in the user populations. Other approaches, such as generative techniques and contextmapping 3, try to involve end users as experts in their own experience by taking them through a carefully orchestrated and supported process of fostering awareness, reflection and expression, in order to help them become competent partners within the design team. In commercial practice, the use of focus groups critiquing proposed new product designs, usability tests, or marketing consultations can also involve users in more active ways than have been practised so far. It is important to define the distinction between co-creation  CO-CREATION and co-design; co-creation indicates a collaborative creative effort, either large or small, and often localized, while co-design refers to co-creation used in the course of the design process, preferably from beginning to end. In this article, we focus on contextmapping, a specific aspect of co-design, in which end users are assigned the role of expert informant, and are supported in that role through access to dedicated tools for observation, reflection and expression. The production of these tools and facilitation of the process have become design research activities which are carried out by professionals with a background in design and/or research.
The Traditional View in Transformation
The traditional view of design identifies three roles: the user, who buys and will live with the product, the designer, who conceives the product, and the client, who manufactures and distributes the product. Popular visual representations of these roles, as well as training materials used in several types of design education, show the connection as a chain of single, narrow links. In this view, the client takes the initiative. For instance, the client conducts market research, spots an opportunity in the market, gives a brief to the designer which specifies design requirements, and expects to receive a concept design in return. A number of trends are chipping away at this linear, unintegrated model from all sides. In co-creation, roles and responsibilities which had previously been thought of as separate are interacting, merging, or even being swapped back and forth between the parties; some roles are disappearing in the form in which we knew them, and new roles are appearing.
There are several reasons for this shift. First, as our lives get more complex, people are more informed, and they need to be more informed.
Users are getting savvier
The internet has made it possible for users to be more informed, giving them opportunities to be involved and have a say in what is made for them. TREND: NETWORK SOCIETY
Designers are getting savvier too
As the design process incorporates more and more areas of expertise from different parties, managing this process increasingly calls for research skills and a talent for facilitation. In some places, including our own school, design education is starting to include those vital skills in the curriculum; elsewhere, people with backgrounds in organizational management or social sciences are specializing in addressing those roles.
The designer-client relationship is no longer as simple as a brief stating a clearly defined problem.
Design clients are diversifying
Some areas of human endeavour are adopting design perspectives. As a result, principles and practices of design are being used to address increasingly complex problems. Projects such as the design of hospitals, services, or policies generally involve multiple stakeholders and areas of expertise. As the structure of design processes shifts, design techniques are being recognized as supporting these very different people by facilitating shared, solution-oriented thinking. Referred to collectively as 'service design' or 'design thinking', such larger-scope problems are being claimed for the design profession (or at least the design procedures).
Partly as a result of these developments, the relationships between the parties are changing.
→ The designer–client relationship is no longer as simple as a brief stating a clearly defined problem and the concept design proposing a single solution. In the Dashboard User Guide, Stevens & Watson distinguish five degrees of how the client is served by the designer, ranging from prescribing (one concept to deliver on the brief), through menu (several concepts to choose from), co-creation DIY (collaboration as equals), and assistance (the client receiving design coaching and help), to DIY (the client does the design while the designer observes and interjects comments as needed). 4
→ The client–user relationship is opening up in open design and meta-design. In open design, manufacturing options are becoming widespread and widely accessible, and resources for sharing design ideas are available (open movement). In meta-design, 5 products are made with sufficient adaptability to leave a number of final design choices to the user.
→ The designer–user relationship is opening up strongly throughout the entire design process. In several industries, competition on technology and price has saturated the market, and clients are taking a closer look at the user experiences and contexts of use in order to improve their products. Elsewhere 6 we called this the "contextual push", a force in product development that complements the classic forces of 'technology push' and 'market pull'. Users are being involved increasingly early in the design process, not just in the post-conceptualization phases (e.g. usability testing and concept testing), but also in the fuzzy front end of strategic planning, information gathering, and conceptualizing. The challenge here is not only the timing of when different players are involved, but also the responsibilities and powers granted to them. Frequently, users can participate in informing design, providing ideas for solutions, or evaluating proposed concepts; however, at this stage, they are rarely involved in deciding what will be made (as would be the case in fully fledged participatory design).
In small and medium enterprises, the separation has always been less clearly defined: individuals often take on several roles in the process, with the benefit that several viewpoints are more smoothly integrated than in larger corporations.
The list above shows how some of these developments are unfolding. The traditional view, with its clear separation of roles, seems too restricted to address the current complexities, but its influence has not yet been lifted from design-speak, from thinking, or from practice. In our experience, the separations between these roles are more entrenched in the larger industries, where roles are often separated over many specialized individuals or departments. In small and medium enterprises, the separation has always been less clearly defined: single individuals often take on several roles in the design process, with the benefit that several viewpoints are more smoothly integrated than in larger corporations.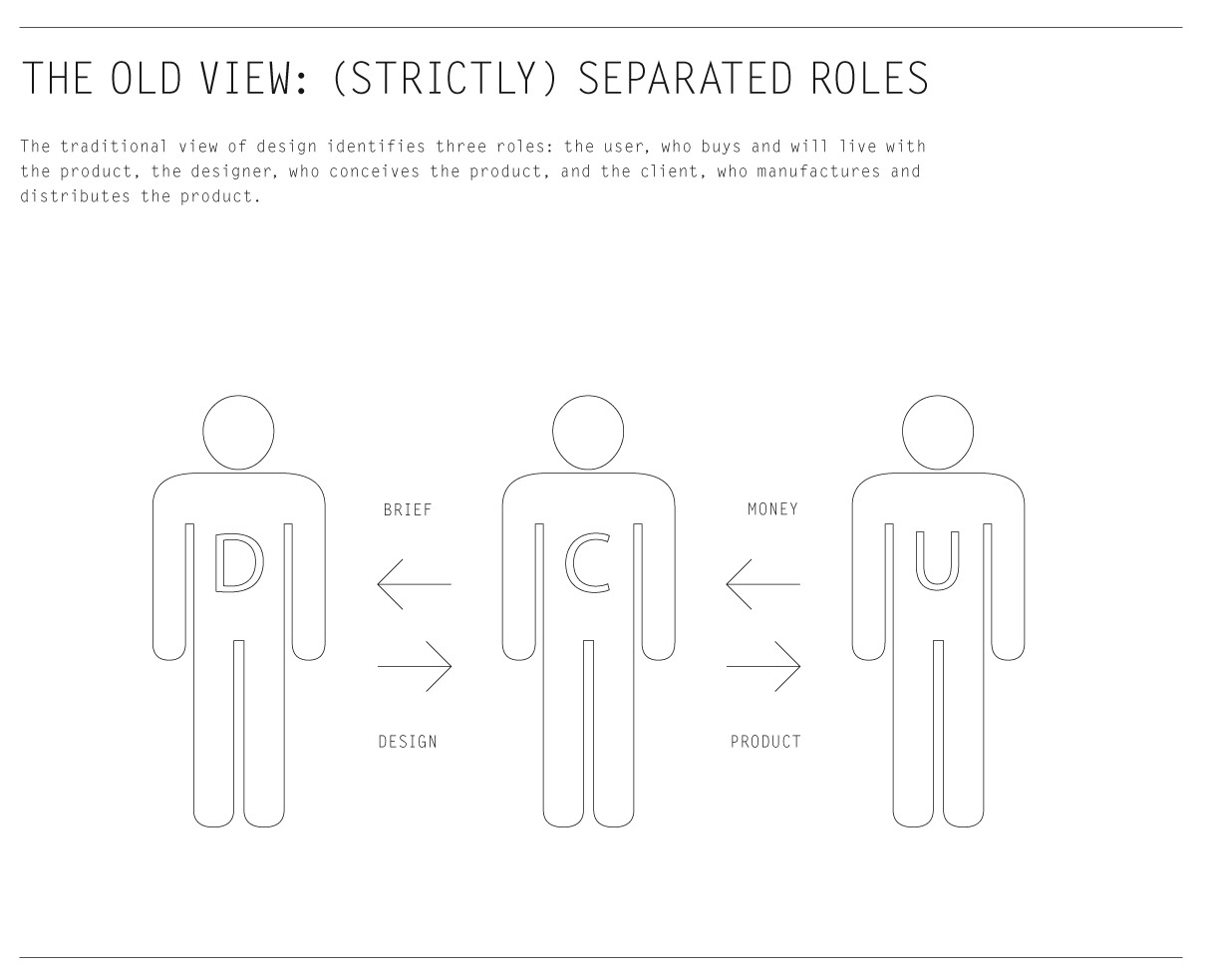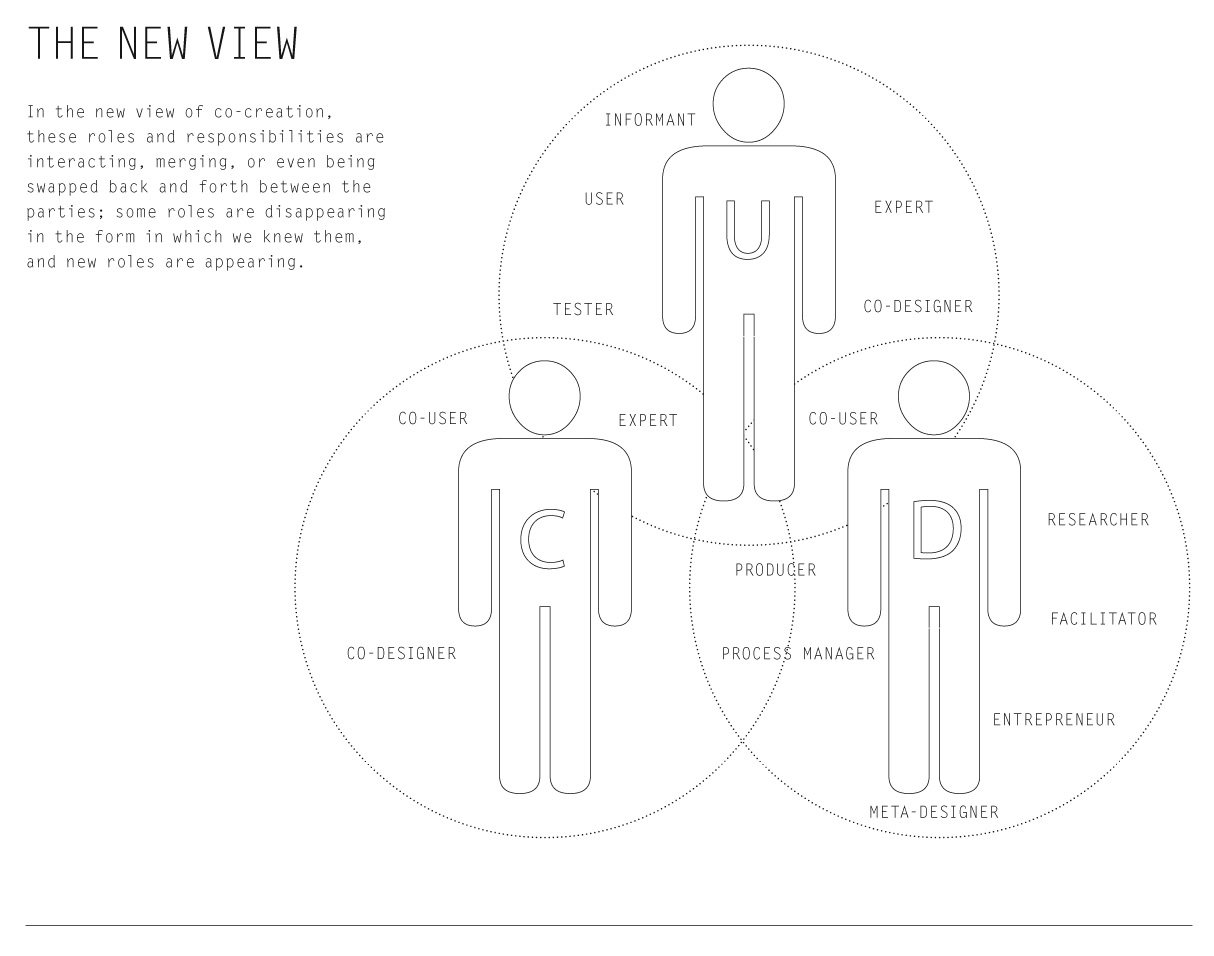 Co-creation with Users in Industrial Practice
User involvement is progressively moving toward the front end of designing. The people controlling the design process are seeing that the user can be a source of valuable input, not just a channel for directing output.
To generalize somewhat, it would seem that the complaints department in many companies was the place that received most input from the users, in the form of returned products. In many cases, the product was returned not because of a product defect, but because the user could not figure out how to operate it, or discovered after purchase that the product completely failed to fulfil his expectations. In the 80s and 90s, consultations with users moved up earlier and earlier, first advancing through sales and marketing, then usability testing, and finally concept evaluation. What happened in these three phases is that users were called in after the concept had been developed to test the products in practice, hopefully revealing any mistakes. This helped companies launch better products by eliminating problems earlier in the design process.
In the 90s and 00s, user involvement was solicited from the other end of the process, bringing in users in increasingly active ways for contextual informing, idea generation, and concept development.  KNOWLEDGE Although the participatory design movement had shown that intensive collaboration with users can be effective throughout the process, progress in the industry in this half of the cycle has been slower and often limited to incidental involvement (short, local contributions).
Contextmapping: Informing Design
Contextmapping methods help users to observe and reflect on parts of their lives, and to use these reflections in making a 'map' that reflects the various facets of their experiences. This map provides the design team with information, inspiration and empathy, feeding further development of the concept design into a product. 7 The approach is built on four main principles:
→ Users are involved as the experts on their own experience.

→ The user's expertise can be coaxed into expression by applying appropriate techniques, which typically involve self-observation and reflection.
→ The information gathered on the context of use should be like a map: it should provide multifaceted, rich and supportive leads for the design team to explore the experiential context. This requires both empathy with the users (a concrete, holistic, feel for the context) and an understanding of the context (an abstract overview of what could be generalized to other users, other situations and future developments).
→ Facilitating this process requires a mixture of design competencies and research skills.
In a series of some 100 design research projects, ranging from individual student graduation projects to larger collaborations  CO-CREATION in consortiums of academic researchers and industrial partners, these methods were developed to fit both user needs and industrial practice. In some cases, user participation has gone beyond informing the process, moving into the realm of idea and concept generation and development.
The client involved in this project offers a large range of hearing protectors for private users, for use in a range of situations: swimming, working, flying, making and listening to music, sleeping or riding a motorcycle. The focus of this project was to gain insight into the life, experience and context of amateur musicians.
Despite our hopes and ambitious rhetoric, design is often not at the forefront of companies' attention.
The company did not have its own design department; most of the innovations were developed internally with people from the existing team, who came from different backgrounds. The CEO and other people responsible for innovations were highly involved and were part of the research and design team during the entire project. The initial study and the idea generation brainstorming sessions were conducted and facilitated by design agency Muzus, resulting in a concept that was further developed by a second, technical, design agency, and handed back to the company (so we already see several separate design agencies at work).
Process and Techniques
The techniques support designers, helping them to develop empathy for this user group, learn about their lives, understand their context and be able to step into their shoes. COMMUNITY The client already had longer-standing relations with users, but felt that the existing relationship had not led to new ideas for a while. In the contextmapping study, seven musicians who played in amateur bands formed a fresh band and played their instruments in a three-hour session. The participants prepared themselves with a sensitizing package during the week before the test session. By taking part in creative assignments, explaining the artefacts and discussing the different topics, the user group of musicians painted a rich and detailed picture for the research team. Employees from the client company observed the session, took notes from their perspective and subsequently engaged in a discussion with the musicians. An immediate result of the session was the reassessment of several stereotypes; the design team went home with plenty of ideas to for further innovation.
Insights, Ideas and Concepts
Three substantial new insights emerged from the session and subsequent analysis. First, hearing protection is currently geared toward individual usage, but it has an adverse effect in a band: if one band member is using hearing protection, volume will be increased and all other members will suffer. Second, many musicians are ignorant of the risk of hearing damage, and are completely unaware of the decibel threshold for damage. This lack of awareness was new to the client. Third, this group is different from all user groups that this company serves. In contrast to, for instance, construction workers operating heavy machinery, these musicians actually want to hear the sound, even while they are protected from the full impact of it: they love their music and want to be able to experience it to the fullest.
Based upon these user insights, the client conferred with users and the research and design team to generate new ideas for innovative hearing protection that is appropriate to the context, experience and needs of amateur musicians. The resulting concepts covered several different levels: helping musicians become aware of the danger of high volumes;developing new ways of communicating with musicians in their familiar context and fitting their tone of voice; redesigning marketing for this specific user group; developing concepts for new innovative products.
Although this company had already had contact with their users over a longer period, they found that that they had often asked the same people for feedback over and over, only requesting confirmation of their own ideas and asking users to reflect on existing ideas. The experience of opening up, adding a fresh perspective and stepping into the shoes of a specific user group led to new directions for innovation at different levels.
Where Is This Going?
The traditional view is splitting at the seams. In many industries, the traditional separation of roles is recognized as no longer inevitable, effective or desired. However, the evolution to new forms of designing has by no means produced a stable and unified view of how the roles are distributed now. Moreover, these processes are not easy to implement. Despite our hopes and ambitious rhetoric, design is often not at the forefront of companies' attention due to such factors as budget constraints, insufficient awareness of what a design approach can contribute and should cost, and a lack of innovative user-driven attitudes. The same holds true for the newer trends of doing research within design, especially user research; the concept of opening up design processes to end-user participation  HACKING DESIGN is often not even considered.
In our experiences with large and small industries, we see a variety of formats being used, combining ingredients in different constellations and using different degrees of separation or specialization, depending on the object of design. Moreover, we see a greater need to orchestrate these processes in the large design projects currently gaining attention under the label of 'service design'; some design professionals are shifting into this new role.
In many industries, the separation of roles is no longer recognized as inevitable, effective or desired.
Clients (or providers, from a user's perspective) need to become aware of what is possible, and consider how they can become more flexible to accommodate the new design paradigms. The paradox here is that this may be more difficult for the larger industries, which already include user participation in their research budgets, than it is for smaller companies, who have much smaller budgets, but often build a stronger relationship with their users. In large companies, different phases of the design process are often split up, connected only through formal documents that are too limited to convey the full richness of user contexts. These overly structured transitions cause valuable insights to be lost because they are not handed over effectively to the new team. On the other hand, smaller companies, who have a longer-standing relationship with users, are often not aware that their users' expertise can be brought to bear more effectively with the aid of appropriate methods.  STANDARDS
The role of designers is becoming more varied: part creator, part researcher, part facilitator, part process manager.
The role of designers is becoming more varied: part creator, part researcher, part facilitator, part process manager. We see graduates of design schools specializing in these roles to varying extents. Users' roles are also changing. A side effect of co-creation
CO-CREATION which we have often observed is that the participating users do not lose their awareness of their own expertise once it has been identified; indeed, they are eager to develop it further. In our own experience, we find that participants are eager to return months after their initial participation, having continued to develop the expertise that was awakened in the study. 8 Gawande recounts a series of similar participatory studies in the area of hospital hygiene, where various participating users discussed and suggested solutions. 9 One effect was that after the sessions, these users would take initiatives to change their work environment in ways that they had never done before in their traditional roles as nurses, cleaners, or doctors. Awakened expertise can lead to confidence, inspiring users to take increased responsibility and initiative. It is likely that this effect can be found in all areas of co-design and co-creation OPEN EVERYTHING in particular, and open design in general: the act of taking part in the creative process, and becoming aware of the expert within, gives people the confidence to take initiative.